In Memory
Alice Wheeler (Millay)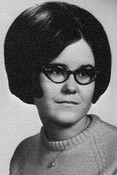 Senior Photo Quote:
"Silence is golden"
In 1971, Alice married Allen Wheeler in Spokane, WA. She had two daughters and three grandchildren.
Alice worked as a receptionist at K-L Manufacturing for 18 years.
At the age of 51 years old, Alice passed away on September 4, 2002 due to cancer.
Inurnment is at Greenwood Memorial Terrace in Spokane.
Source: The Spokesman-Review, September 10,2002