Teachers
Below are the teachers that we know are deceased. If you know of other teachers that have passed away, please contact us with the information so we can include them. Following the list of teachers that have passed, see photos of teachers confirmed alive.
Louis Anderson (1922-5/27/18) deceased at age 96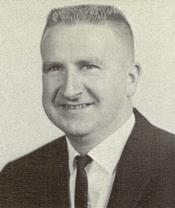 Louis G. Anderson, beloved husband, father, grandfather, great-gran-dfather and friend has gone to his eternal rest on May 27, 2018 in Spokane, WA. Louis was born in Portland, OR on February 28, 1922. He is survived by his daughter, Beverly Anderson Dart; son, Dale A. Anderson (Kathryn), grandchildren, George L. Dart (Lisa), Alison Dart Banholzer, and Michael Anderson; four great-granddaughters, Rachael Dart, Haeley Dart, Katherine Banholzer and Caroline Banholzer; brother, A. Reinold Anderson (Mary); and nephew, John W. Anderson (Anne); and numerous great-nieces and nephews. He was preceded in death by his wife, Barbara F. Anderson, his parents, Earnest W. Anderson and Dora L. Anderson, and grandson, Col. David D. Banholzer.
Louis grew up on the family farm in Longview, WA where he graduated from R.A. Long High School in 1940. He joined the Army Air Corps and flew 35 missions over Germany as First Pilot of a G-model B-17, flying out of RAF Chelveston in England. Following WWII, he married the love of his life, Barbara F. Gilby on July 7, 1946 and they relocated to Pullman, WA where Louis graduated from Washington State University with a Bachelor of Science Degree in Agriculture Business and Master's Degree in Education. They moved to Spokane, WA where they celebrated 71 years of marriage. Louis and Barbara often spoke of "growing old together" and their love becoming "truer, deeper and richer."
Louis completed 21 years in the Air Force Reserve, retiring as a Lt. Col., while pursuing 30 years as a Vocational Agriculture, Auto Shop teacher and FFA Advisor for Mead High School. He also served on the Washington State Lands Commission, helping in the management of state forest lands.
Louis fulfilled a dream when, in 1967, he and Barbara purchased their farm on Greenbluff and was always happiest when he was serving their customers at Anderson Acres. He treasured the many, dear friends he made selling apples, cherries and other fruit.
Louis was a Master Gardener and enjoyed working in his garden and orchards. He was a member of the Greenbluff Grange, a 50-year member of Kiwanis Clubs International, and a member since the early 1960s of St. Luke Lutheran Church. He will be remembered as a quiet man who was strong, generous, loving, and smart. He passed on those traits to his children and family.
The family would like to thank the owners and staff at Fairwood Assisted Living and Horizon Hospice for the compassionate and wonderful care Dad received in the past few years of his life.
Visitation will be held on Friday, June 8th from 11am to 4pm at Heritage Funeral Home. A celebration of life graveside service will be held on Tuesday, June 19th at 12:30pm at Fairmount Memorial Park 5200 W. Wellesley Ave., Spokane, WA. In lieu of flowers, the family would like you to consider a donation in memory of Louis G. Anderson to St. Luke Lutheran Church, 9706 N. Division, PO Box 28948, Spokane, WA 99228-8948. As printed in the Spokesman Review June 3, 2018
2010 Spokesman-Review Story about Mr. Anderson: If you missed it, here is a link to a great story about Mr. Louis Anderson published on June 24th 2010 about his 64 year marriage and his former home in Mead! Check it out: http://www.spokesman.com/stories/2010/jun/24/broken-watch-lasting-marriage/
Duane Hartman, deceased at 60 September 2001
SPOKANE - Memorial service for coach Duane Peter Hartman, 60, will be at 4 p.m. today at the track at Spokane Community College. Heritage Funeral Home is in charge of arrangements. Mr. Hartman, who was born in Bowdle, S.D., died Sunday. He was a 35-year resident of Spokane. He grew up in Tacoma, and in 1959 graduated from Bellarmine Prep School. He earned a degree in education from Eastern Washington State College in 1966 and a master's degree in education. Spokesman-Review, September 20, 2001
Mike Kostecka, deceased (father of our classmate, Walt Kostecka)
Eugene Fink, deceased 1999
Below is a photo from 1959 that appeared in the Spokesman on 1/31/11.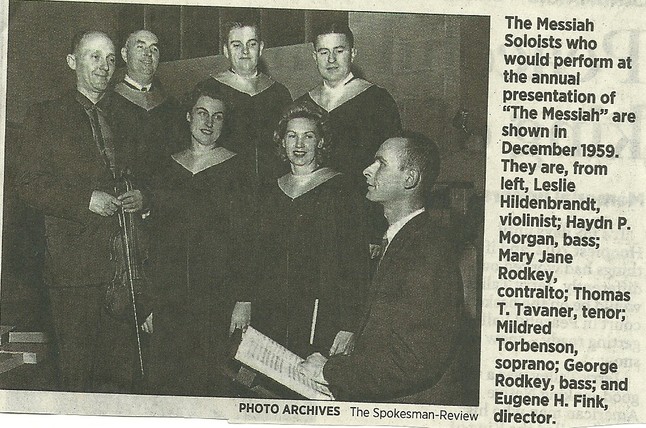 Landy James dies at age 66 in 1997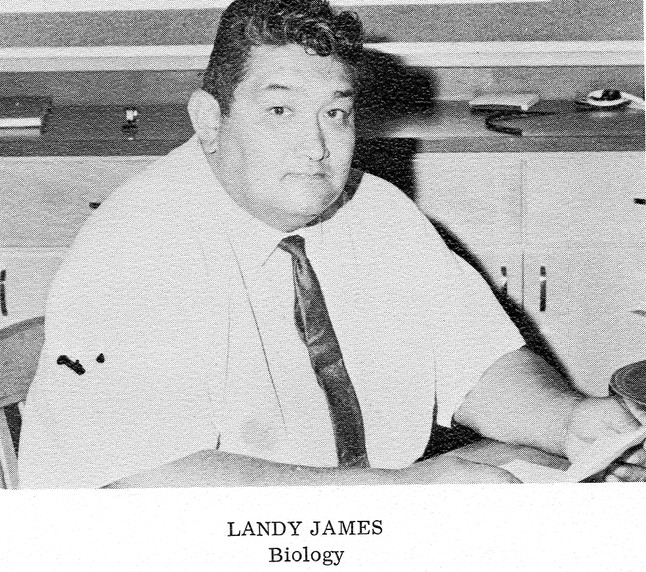 Former Mead Football Coach Landy James Dies At Age 66
Published in The Spokesman-Review
Skagit Valley Herald Contributed
Landy James, a star athlete at Washington State University and later one of the state's top coaches and educators, died Tuesday in La Conner at age 66.
James coached Mead football for 13 years (1956-1968), winning nine Northeast A League championships with an overall record of 76-34-3. In all, he was 181-89-3 in 30 years of high school coaching. He was inducted into the Washington State High School Football Coaches Hall of Fame in 1995.
He left Mead to return to La Conner High School, his alma mater, in 1969, and he coached football for another 16 seasons. He coached La Conner basketball for two seasons (1983-84 and 1984-85), taking the Braves to the Class B state tournament both seasons.
James graduated from La Conner in 1948. He went to Washington State on a basketball scholarship but concentrated on football and baseball. He lettered in football from 1949 through 1951. In baseball, his career earned run average of 2.13 ranks sixth all-time at the school. His senior year he was first-team All-Northern Division.
James, a member of the Swinomish Indian Tribe, was a former National Indian Educator of the Year.
"We put on some very successful Indian education conferences here and they were a success in large part because of Landy's intimate knowledge of the culture," said Vince Sellen, a history teacher at La Conner and a close friend of James.
James suffered from diabetes and had both legs amputated just below the knee in 1992. A memorial service is being held this morning at La Conner High School gym, which 10 years ago was named the Landy James Activity Center.
Ernie Stueve, deceased 2006, age 75 (uncle of our classmate, Vicki Stueve, who is also deceased)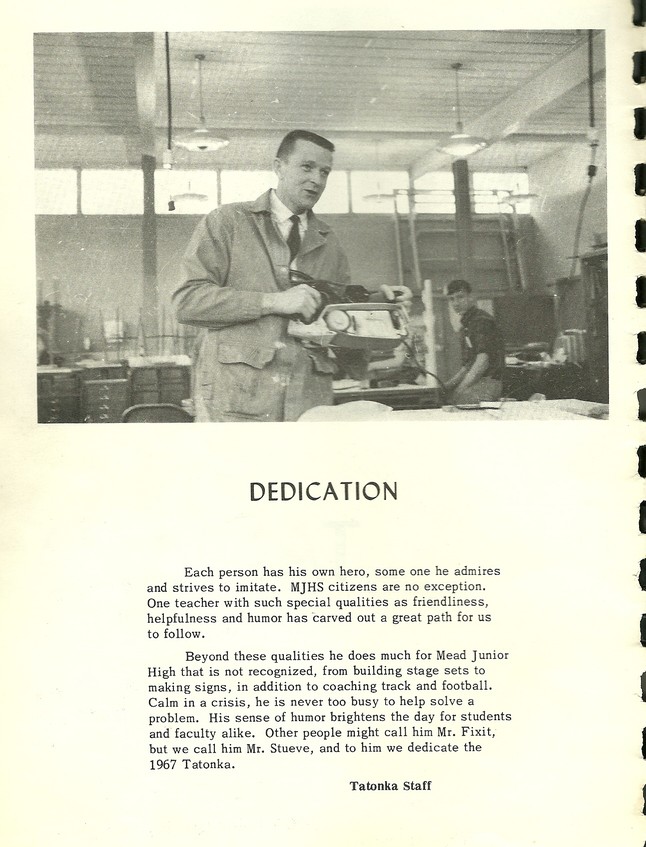 Mabel Walmark, deceased 1996, age 88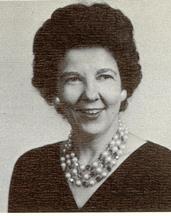 Helen Nordby - deceased in 2000 (article from 2000, below)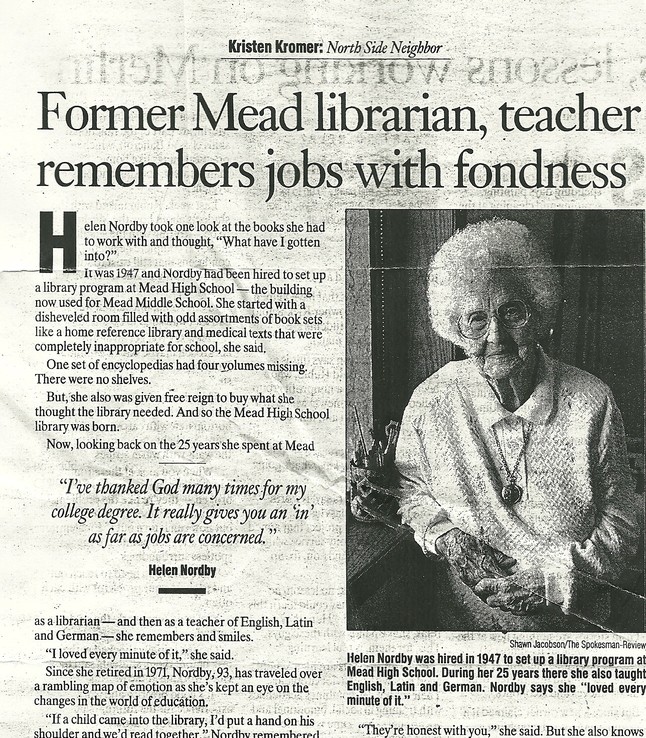 The caption reads: Helen Nordby was hired in 1947 to set up a library program at Mead High School. Durning her 25 years there she also taught English, Latin, and German. Nordby says she "loved every minute of it!"
Don McInturff, deceased May 16, 2009, age 86
McINTURFF, Donald Ralph
Born June 25, 1922 and entered into rest on May 16, 2009. Ralph is survived by his wife of 63 years, Mae and their two sons; Ace of Sequim, WA and Kim of Santa Barbara,CA; four grandchildren; Sean and Brian of Colorado and Ian and Margo of Santa Barbara; and four great-grandchildren of Colorado. He was raised in the area of Hill Road and Whitworth Drive as his father had the first service station in that area. Don attended Whitworth Grade School and then graduated from North Central High School and then Whitworth College. Mr. McInturff taught in Almira and Pomeroy and then was with the Mead School District for 30 plus years, starting with taking care of financial matters and later returning to the classroom in the field of business. Special thanks to the wonderful care by Cornerstone Court Senior Care Center and Cynthia Rogers and staff and Horizon Hospice. Graveside Service will be held at Pleasant Prairie Cemetery on Tuesday, May 19th, at 11 am. Memorial contributions may be made to Cornerstone Court, 12322 N. Ruby, Spokane, 99218 or Horizon Hospice, 123 W. Cascade Way, Spokane 99208.
SPOKANE CREMATION & BURIAL SERVICE
Published on 5/20/2009--Spokesman Review
Francis Mae McInturff, died July 7, 201907, age 90
Wife of Mead teacher Don McInturff. "Mrs. Mac" was the Mead Junior High Physical Education Teacher, grades 7,8, and 9. Passed away in Spokane.
Carol Lewis (1930-10/18/17) deceased at age 87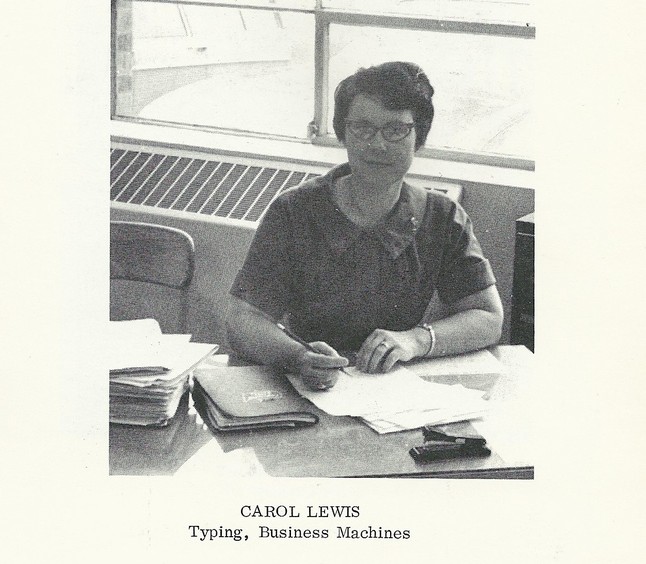 Paul E. SCHAFFNER dies at 76 on November 20, 2012
SCHAFFNER, Paul E. (Age 76) Of Ford, Washington passed away November 20, 2012 in Spokane. A funeral service will be held at 11:00 a.m. on Monday, November 26, at the Springdale Community Church. Burial will follow at the Pleasant View Cemetery in Ford. A reception will be held at the Ford Senior Center after the burial. LAUER FUNERAL HOME, DEER PARK, WA. in charge of arrangements.
Published in Spokesman-Review from November 25 to November 26, 2012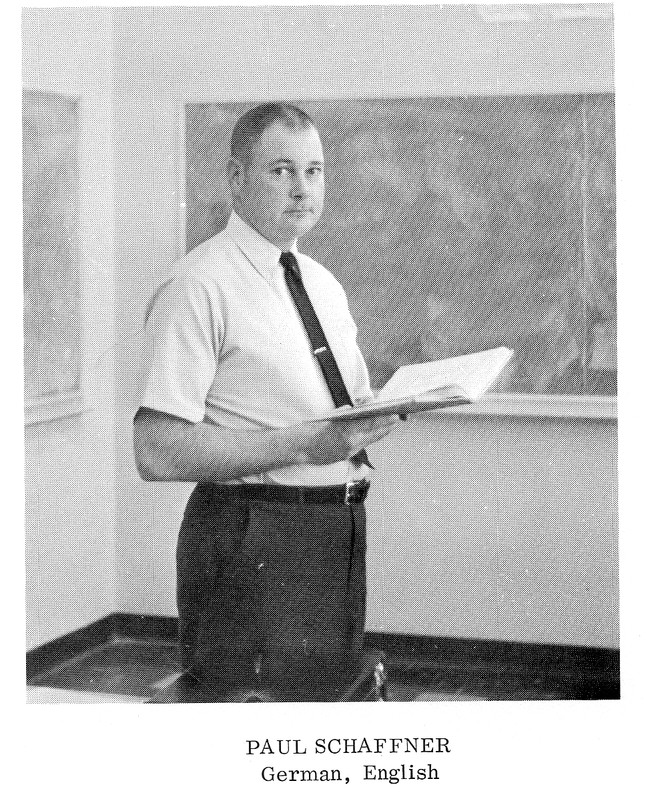 Thomas Charles JAEGER (06/02/1931 - 04/16/2014)
Counselor
JAEGER, Thomas Charles June 2, 1931 - April 16, 2014 Tom Jaeger, lifelong resident of Spokane, WA entered into eternal rest of natural causes at home in Spokane, April 16, 2014. Tom was raised in north Spokane and attended Saint Francis of Assisi Grade School and Saint Francis High School in Santa Barbara, CA. Tom was a 1st Lieutenant in the US Army from 1956 to 1958 serving in Europe on the border of West Germany and Czechoslovakia. After his military service, he returned to Spokane and worked at Sacred Heart Hospital where he met his future wife, Maureen. Tom pursued his Bachelors in Education from Gonzaga University and Whitworth College. As an educator, Tom spent 10 years in the Mead school district during which time he earned his Masters Degree in Education and Guidance Counseling from Eastern Washington University. After his time at Mead, he worked for the Washington State Community College system as a career guidance counselor at Spokane Community College, until his retirement in 1994. Devoted to his community, he served on the boards of Lilac City Figure Skating Club and Amicus Credit Union. He was passionate about education and sent all three of his daughters to Gonzaga Prep. Tom's family was his life. Married to his beloved wife for 54 years, Tom and Maureen raised their three daughters in Spokane. In later years he doted on his six grandchildren and spent innumerable hours cheering them on at sporting and school events. Travel was a passion throughout his life and he enjoyed trips throughout the US, Australia, Canada and Europe. Tom is survived by his wife of 54 years, Maureen; three daughters: Geralyn Bird, of Spokane, Laura Faulkner of Bellevue, WA, and Melanie Eckhardt of Edmonds, WA; five granddaughters: Kaylah Keenan, Meghan Keenan, Morgan Faulkner, Cheyanne Faulkner, Nicole Faulkner; one grandson, Matthew Keenan; and numerous nieces, nephews and great nieces and great nephews. Tom will be remembered for his dry sense of humor and deadpan delivery, only given away by the twinkle in his eye. Think of him and smile. Tom was preceded in death by his parents: Carl and Marion Jaeger; and two sisters: Marion Driscoll and Dianne Nelson. Visitation Tuesday, April 22nd 2-6 pm, Hennessey-Smith Funeral Home followed by Holy Rosary at 7:00 pm. Funeral Mass of Christian Burial, followed by a reception, Wednesday, April 23rd at 11:00 am at St. Thomas More Church, 515 W. St. Thomas More Way, Spokane, WA. Private interment at a later date. Tom was a man of great faith and valued education. In lieu of flowers, the family requests donations to the Gonzaga Preparatory High School, Fair Share Program. Please visit Tom's online memorial at www.hennesseyfuneralhomes.com, and leave a message of condolence.
Published in Spokesman-Review on Apr. 20, 2014
Ray Sheahan passes at age 89 in 2015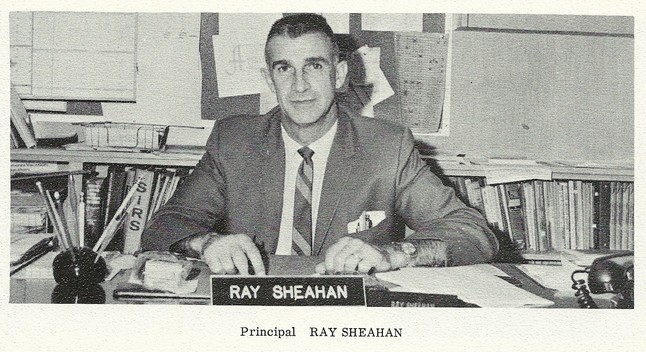 SHEAHAN, Ray (Age 89) On August 17th, 2015 we lost our wonderful, loving Dad and decorated WWII Honored Marine (hi you). He touched so many people in the state of Washington, starting in Pine City, Tenino, Brewster, Oroville, Moses Lake, Spokane and Warden. He was a coach, teacher, Principal, Superintendent of Schools and finally retired to be a rancher and raise cattle. He was preceded in death by his wife Beverly (Leise) Sheahan of 24 years, grandson Kristopher Bell, parents Emmett and Vera, sister Mildred Anderson, brother Don and wife Jean (Phalon) Sheahan of 37 years. He will be missed by so many including his five children, Gail and (Bob) Bell, Mike and (Doty) Sheahan, Sally and (Steve) Lloyd, Tim and (Patty) Phalon, Connie and (Dave) Langman; his nine grandchildren, 14 great-grandchildren and two great-great-grandchildren; and his lifelong friend Don Shindler. Thank You to all at the Spokane VA 5th and 4th floor and CLC-Hospice. In lieu of flowers, please support the Spokane VA Dept. of Veterans Affairs C/O Hospice Unit Attn: Volunteer Services 4815 N Assembly St., Spokane WA. 99205 "We Love You Dad"!
Published in Spokesman-Review on Aug 20, 2015
John Savage (1935-11/21/15) deceased at age 80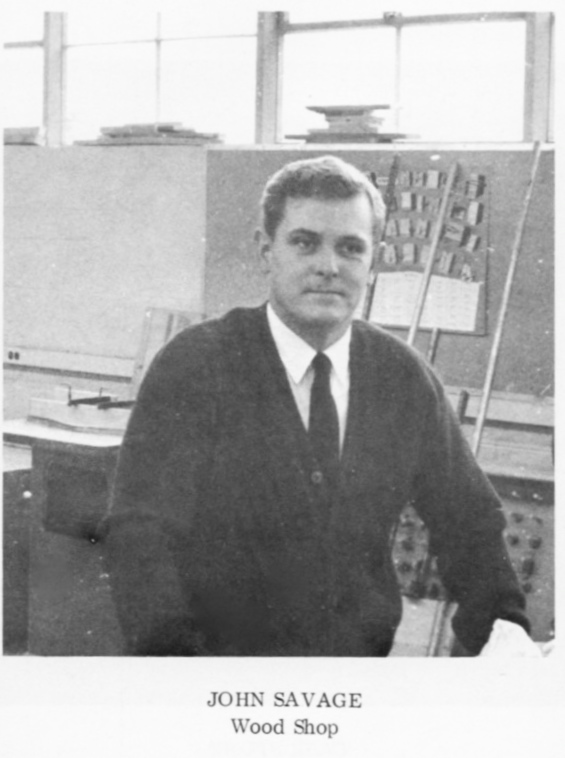 John William "Bill" SAVAGE (02/18/1935 - 11/21/2015)
SAVAGE, John William "Bill" The fourth child of Oscar and Mary Maher Savage, was born and raised in Spokane. He joined older siblings, James, Patricia, and Thomas on February 18, 1935. Younger brother, Terry, was born two years later. John attended St. Anthony's Parish School and Havermale Jr. High before graduating from North Central High School in 1952. Always a hard worker, John started at an early age by delivering The Spokesman-Review. He worked at the Davenport Parking Garage as a teenager during an era when entertainers often stayed at the Davenport while entertaining at the Coliseum. He had some good memories and stories about the people he met during that time. John was working as a fireman for Great Northern Railroad when he and June Croyle married in 1959. They had four children: Marie, John Jr., Patricia, and Paul. John continued working for the railroad until 1969. In the meantime, he was earning a B.A. in Education at what was then Eastern Washington College. Although he eventually taught only woodshop, he began his teaching career at Mead High School in 1964, also teaching biology, architectural drawing, and mechanical drawing. He earned a Master's Degree in counseling and began working at Spokane Falls Community College in 1970 where he was an academic counselor and taught career planning. In 1972, John also began advising personnel at Fairchild Air Force Base, helping many leaving the service plan for a new career. John was a talented wood worker and often taught adult woodworking classes. He particularly enjoyed teaching the construction of historic muzzle loading guns. John and June both retired from Spokane Falls Community College in 1995 and moved to the cabin at Diamond Lake that they had enjoyed for twenty years. With the help of their family, they remodeled the cabin, making it into a year-round residence. They spent many hours in John's shop building cabinets and furniture. John also enjoyed packing up their camper and dogs and heading out to often unknown destinations. Travelling to the Oregon Coast became his favorite. He could frequently be found taking a leisurely cruise around the lake he loved. John good-naturedly fought the effects of strokes in 2013 and more recently Goodpasture's Syndrome. He passed away at Riverview Care Center in Spokane on Saturday, November 21st. John's brothers preceded him in death. His sister Patty Belknap and sisters-in-law, Marybelle and Sally Savage survive him as do his wife June and his children and their spouses: Marie Savage (Tim) Hopfauf; John (Kelly) Savage Jr.; Patty (Chris) Markofski; and Paul (Kristin) Savage. He is also survived by seven grandchildren and two great-grandchildren. The family wishes to thank the staff at Riverview Care Center and Dr. Groza and the staff at Spokane Kidney Center for their skilled and compassionate care of John and support of June and the family. John has attended St. Anthony's Church in Newport since 1972. Funeral Mass will be there Saturday, December 5, at 11:00 a.m. A visitation will be prior to service at the church. Interment will be at the Holy Cross Cemetery in Spokane Monday, December 7 at 11:00. SHERMAN-KNAPP FUNERAL HOME in Newport, WA is in charge of arrangements. Family and friends are invited to sign the online guest book at sherman-knapp.com
- See more at: http://www.legacy.com/obituaries/spokesman/obituary.aspx?pid=176690763#sthash.nKC1kSIc.dpuf
Published in Spokesman-Review on November 29, 2015
Reese Bennett (3/10/1910 - 1/15/1995) Algebra, Calculus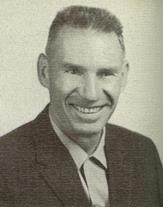 Martha Brookhart (9/3/1914 - 8/29/2002) English, Journalism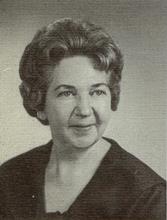 Alpha Mae Spence (1926-2017) English Teacher and Girl's Counselor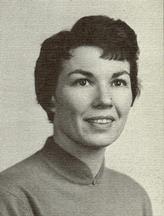 Mrs. Spence passed away on September 17, 2017 in Spokane. She is survived by her children Scott (Mead Class of 1971) and Shannon Spence. Husband Don (see below) passed in 2016.
Don Spence (1925-2016) Junior High Math and Science Teacher/Coach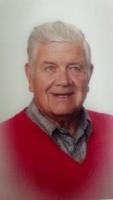 John

William

"Bill"

SAVAGE

(02/18/1935 - 11/21/2015)
- See more at: http://www.legacy.com/obituaries/spokesman/obituary.aspx?pid=176690763#sthash.nKC1kSIc.dpuf
John

William

"Bill"

SAVAGE

(02/18/1935 - 11/21/2015)
- See more at: http://www.legacy.com/obituaries/spokesman/obituary.aspx?pid=176690763#sthash.nKC1kSIc.dpuf
Don passed away in February 2016. In 1957 Don was part of the original faculty at Mead Junior High School teaching Math, Science and coaching several sports. 1969 Classmates remember Don from Jr High and also remember Don's wife Alpha who was an English Teacher and our high school girls counselor and Don's son Scott (Mead class of 1971).
Published in Spokesman-Review on Nov. 29, 2015
Alive and Well...and Seen Around Town
if you spot a former teacher, snap a photo and send it to us...
Cash Stone
Washington Interscholastic Activities Association Hall of Fame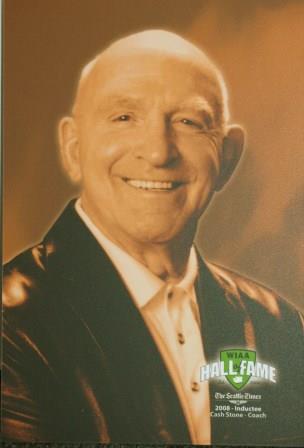 Cash Stone With Joel Wells ('70) - December 2019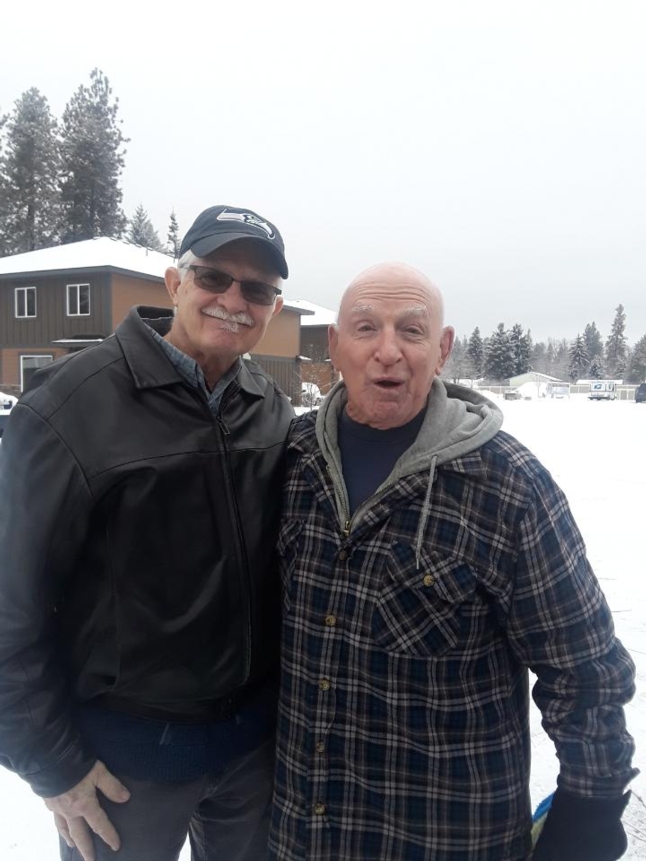 Bill Smithpeters with Judy (Rock) Evans ('70) Sept 2019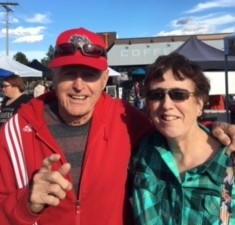 Cliff Goss with Scott and Sandie (DeFreese) Eymer - Sept 2018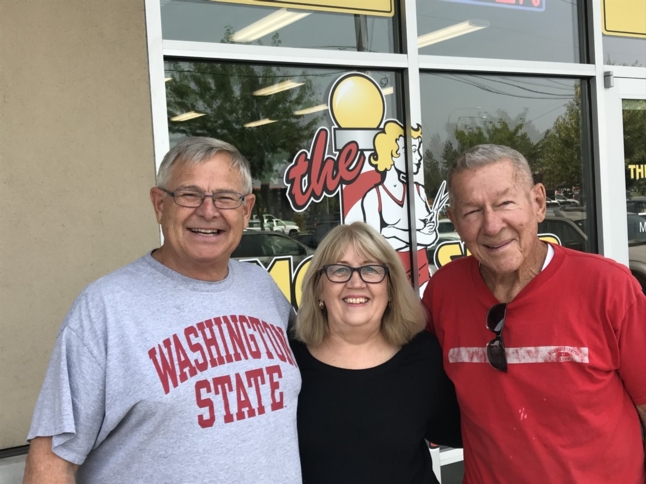 Brian Hess (English/Drama) taken Jan 2020 by Marti (Boyle) Daniels ('70)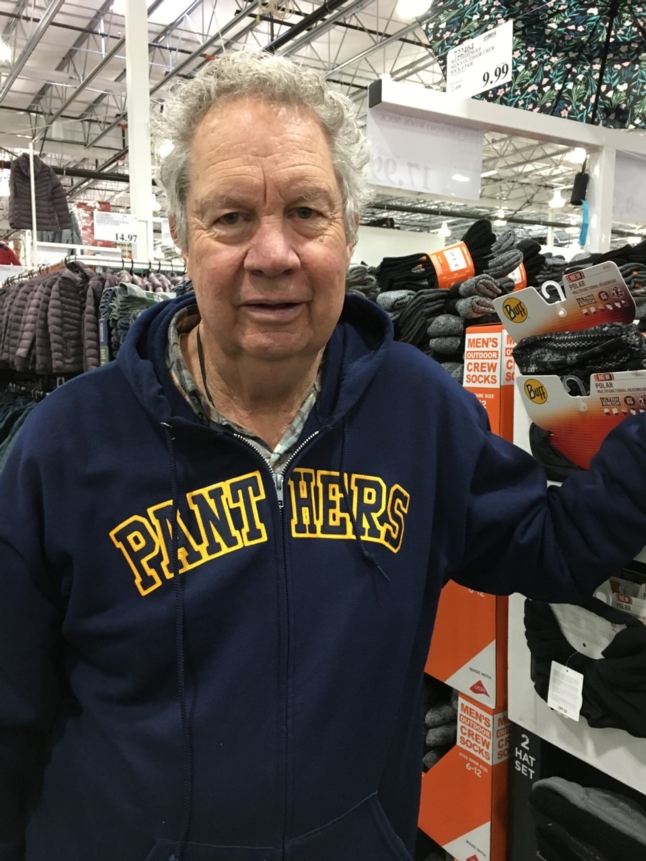 Gorden Brunette and Mrs. Brunette (8/2000)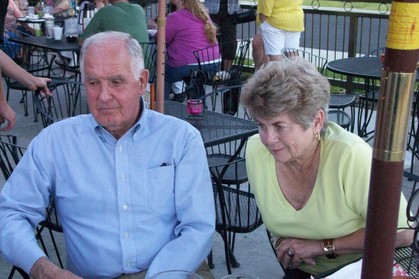 Mary Hyatt with Melaine Walker and Anne (Durham) Grum - sept 2019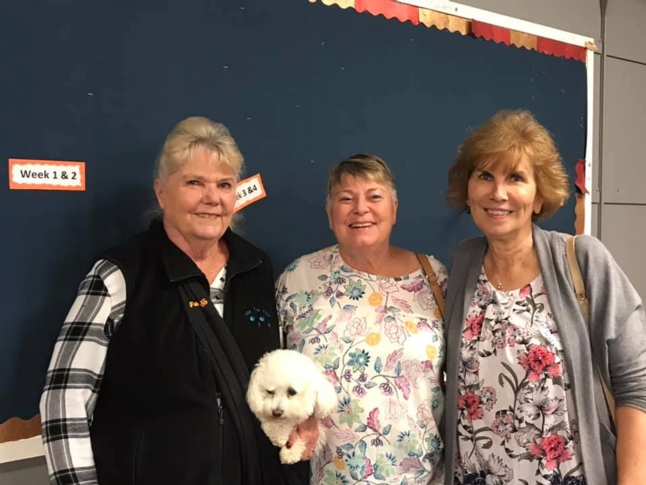 Also confirmed still with us (as of Jan 2020)
Bernice Kite - Art
George Weishaar - Vice-Principal
Roger Gray (in Portland)-World History, World Problems
Al Toutant
Published in Spokesman-Review on Nov. 29, 2015
SAVAGE, John William "Bill" The fourth child of Oscar and Mary Maher Savage, was born and raised in Spokane. He joined older siblings, James, Patricia, and Thomas on February 18, 1935. Younger brother, Terry, was born two years later. John attended St. Anthony's Parish School and Havermale Jr. High before graduating from North Central High School in 1952. Always a hard worker, John started at an early age by delivering The Spokesman-Review. He worked at the Davenport Parking Garage as a teenager during an era when entertainers often stayed at the Davenport while entertaining at the Coliseum. He had some good memories and stories about the people he met during that time. John was working as a fireman for Great Northern Railroad when he and June Croyle married in 1959. They had four children: Marie, John Jr., Patricia, and Paul. John continued working for the railroad until 1969. In the meantime, he was earning a B.A. in Education at what was then Eastern Washington College. Although he eventually taught only woodshop, he began his teaching career at Mead High School in 1964, also teaching biology, architectural drawing, and mechanical drawing. He earned a Master's Degree in counseling and began working at Spokane Falls Community College in 1970 where he was an academic counselor and taught career planning. In 1972, John also began advising personnel at Fairchild Air Force Base, helping many leaving the service plan for a new career. John was a talented wood worker and often taught adult woodworking classes. He particularly enjoyed teaching the construction of historic muzzle loading guns. John and June both retired from Spokane Falls Community College in 1995 and moved to the cabin at Diamond Lake that they had enjoyed for twenty years. With the help of their family, they remodeled the cabin, making it into a year-round residence. They spent many hours in John's shop building cabinets and furniture. John also enjoyed packing up their camper and dogs and heading out to often unknown destinations. Travelling to the Oregon Coast became his favorite. He could frequently be found taking a leisurely cruise around the lake he loved. John good-naturedly fought the effects of strokes in 2013 and more recently Goodpasture's Syndrome. He passed away at Riverview Care Center in Spokane on Saturday, November 21st. John's brothers preceded him in death. His sister Patty Belknap and sisters-in-law, Marybelle and Sally Savage survive him as do his wife June and his children and their spouses: Marie Savage (Tim) Hopfauf; John (Kelly) Savage Jr.; Patty (Chris) Markofski; and Paul (Kristin) Savage. He is also survived by seven grandchildren and two great-grandchildren. The family wishes to thank the staff at Riverview Care Center and Dr. Groza and the staff at Spokane Kidney Center for their skilled and compassionate care of John and support of June and the family. John has attended St. Anthony's Church in Newport since 1972. Funeral Mass will be there Saturday, December 5, at 11:00 a.m. A visitation will be prior to service at the church. Interment will be at the Holy Cross Cemetery in Spokane Monday, December 7 at 11:00. SHERMAN-KNAPP FUNERAL HOME in Newport, WA is in charge of arrangements. Family and friends are invited to sign the online guest book at sherman-knapp.com
- See more at: http://www.legacy.com/obituaries/spokesman/obituary.aspx?pid=176690763#sthash.nKC1kSIc.dpuf
SAVAGE, John William "Bill" The fourth child of Oscar and Mary Maher Savage, was born and raised in Spokane. He joined older siblings, James, Patricia, and Thomas on February 18, 1935. Younger brother, Terry, was born two years later. John attended St. Anthony's Parish School and Havermale Jr. High before graduating from North Central High School in 1952. Always a hard worker, John started at an early age by delivering The Spokesman-Review. He worked at the Davenport Parking Garage as a teenager during an era when entertainers often stayed at the Davenport while entertaining at the Coliseum. He had some good memories and stories about the people he met during that time. John was working as a fireman for Great Northern Railroad when he and June Croyle married in 1959. They had four children: Marie, John Jr., Patricia, and Paul. John continued working for the railroad until 1969. In the meantime, he was earning a B.A. in Education at what was then Eastern Washington College. Although he eventually taught only woodshop, he began his teaching career at Mead High School in 1964, also teaching biology, architectural drawing, and mechanical drawing. He earned a Master's Degree in counseling and began working at Spokane Falls Community College in 1970 where he was an academic counselor and taught career planning. In 1972, John also began advising personnel at Fairchild Air Force Base, helping many leaving the service plan for a new career. John was a talented wood worker and often taught adult woodworking classes. He particularly enjoyed teaching the construction of historic muzzle loading guns. John and June both retired from Spokane Falls Community College in 1995 and moved to the cabin at Diamond Lake that they had enjoyed for twenty years. With the help of their family, they remodeled the cabin, making it into a year-round residence. They spent many hours in John's shop building cabinets and furniture. John also enjoyed packing up their camper and dogs and heading out to often unknown destinations. Travelling to the Oregon Coast became his favorite. He could frequently be found taking a leisurely cruise around the lake he loved. John good-naturedly fought the effects of strokes in 2013 and more recently Goodpasture's Syndrome. He passed away at Riverview Care Center in Spokane on Saturday, November 21st. John's brothers preceded him in death. His sister Patty Belknap and sisters-in-law, Marybelle and Sally Savage survive him as do his wife June and his children and their spouses: Marie Savage (Tim) Hopfauf; John (Kelly) Savage Jr.; Patty (Chris) Markofski; and Paul (Kristin) Savage. He is also survived by seven grandchildren and two great-grandchildren. The family wishes to thank the staff at Riverview Care Center and Dr. Groza and the staff at Spokane Kidney Center for their skilled and compassionate care of John and support of June and the family. John has attended St. Anthony's Church in Newport since 1972. Funeral Mass will be there Saturday, December 5, at 11:00 a.m. A visitation will be prior to service at the church. Interment will be at the Holy Cross Cemetery in Spokane Monday, December 7 at 11:00. SHERMAN-KNAPP FUNERAL HOME in Newport, WA is in charge of arrangements. Family and friends are invited to sign the online guest book at sherman-knapp.com
- See more at: http://www.legacy.com/obituaries/spokesman/obituary.aspx?pid=176690763#sthash.nKC1kSIc.dpuf
SAVAGE, John William "Bill" The fourth child of Oscar and Mary Maher Savage, was born and raised in Spokane. He joined older siblings, James, Patricia, and Thomas on February 18, 1935. Younger brother, Terry, was born two years later. John attended St. Anthony's Parish School and Havermale Jr. High before graduating from North Central High School in 1952. Always a hard worker, John started at an early age by delivering The Spokesman-Review. He worked at the Davenport Parking Garage as a teenager during an era when entertainers often stayed at the Davenport while entertaining at the Coliseum. He had some good memories and stories about the people he met during that time. John was working as a fireman for Great Northern Railroad when he and June Croyle married in 1959. They had four children: Marie, John Jr., Patricia, and Paul. John continued working for the railroad until 1969. In the meantime, he was earning a B.A. in Education at what was then Eastern Washington College. Although he eventually taught only woodshop, he began his teaching career at Mead High School in 1964, also teaching biology, architectural drawing, and mechanical drawing. He earned a Master's Degree in counseling and began working at Spokane Falls Community College in 1970 where he was an academic counselor and taught career planning. In 1972, John also began advising personnel at Fairchild Air Force Base, helping many leaving the service plan for a new career. John was a talented wood worker and often taught adult woodworking classes. He particularly enjoyed teaching the construction of historic muzzle loading guns. John and June both retired from Spokane Falls Community College in 1995 and moved to the cabin at Diamond Lake that they had enjoyed for twenty years. With the help of their family, they remodeled the cabin, making it into a year-round residence. They spent many hours in John's shop building cabinets and furniture. John also enjoyed packing up their camper and dogs and heading out to often unknown destinations. Travelling to the Oregon Coast became his favorite. He could frequently be found taking a leisurely cruise around the lake he loved. John good-naturedly fought the effects of strokes in 2013 and more recently Goodpasture's Syndrome. He passed away at Riverview Care Center in Spokane on Saturday, November 21st. John's brothers preceded him in death. His sister Patty Belknap and sisters-in-law, Marybelle and Sally Savage survive him as do his wife June and his children and their spouses: Marie Savage (Tim) Hopfauf; John (Kelly) Savage Jr.; Patty (Chris) Markofski; and Paul (Kristin) Savage. He is also survived by seven grandchildren and two great-grandchildren. The family wishes to thank the staff at Riverview Care Center and Dr. Groza and the staff at Spokane Kidney Center for their skilled and compassionate care of John and support of June and the family. John has attended St. Anthony's Church in Newport since 1972. Funeral Mass will be there Saturday, December 5, at 11:00 a.m. A visitation will be prior to service at the church. Interment will be at the Holy Cross Cemetery in Spokane Monday, December 7 at 11:00. SHERMAN-KNAPP FUNERAL HOME in Newport, WA is in charge of arrangements. Family and friends are invited to sign the online guest book at sherman-knapp.com
- See more at: http://www.legacy.com/obituaries/spokesman/obituary.aspx?pid=176690763#sthash.nKC1kSIc.dpuf
SAVAGE, John William "Bill" The fourth child of Oscar and Mary Maher Savage, was born and raised in Spokane. He joined older siblings, James, Patricia, and Thomas on February 18, 1935. Younger brother, Terry, was born two years later. John attended St. Anthony's Parish School and Havermale Jr. High before graduating from North Central High School in 1952. Always a hard worker, John started at an early age by delivering The Spokesman-Review. He worked at the Davenport Parking Garage as a teenager during an era when entertainers often stayed at the Davenport while entertaining at the Coliseum. He had some good memories and stories about the people he met during that time. John was working as a fireman for Great Northern Railroad when he and June Croyle married in 1959. They had four children: Marie, John Jr., Patricia, and Paul. John continued working for the railroad until 1969. In the meantime, he was earning a B.A. in Education at what was then Eastern Washington College. Although he eventually taught only woodshop, he began his teaching career at Mead High School in 1964, also teaching biology, architectural drawing, and mechanical drawing. He earned a Master's Degree in counseling and began working at Spokane Falls Community College in 1970 where he was an academic counselor and taught career planning. In 1972, John also began advising personnel at Fairchild Air Force Base, helping many leaving the service plan for a new career. John was a talented wood worker and often taught adult woodworking classes. He particularly enjoyed teaching the construction of historic muzzle loading guns. John and June both retired from Spokane Falls Community College in 1995 and moved to the cabin at Diamond Lake that they had enjoyed for twenty years. With the help of their family, they remodeled the cabin, making it into a year-round residence. They spent many hours in John's shop building cabinets and furniture. John also enjoyed packing up their camper and dogs and heading out to often unknown destinations. Travelling to the Oregon Coast became his favorite. He could frequently be found taking a leisurely cruise around the lake he loved. John good-naturedly fought the effects of strokes in 2013 and more recently Goodpasture's Syndrome. He passed away at Riverview Care Center in Spokane on Saturday, November 21st. John's brothers preceded him in death. His sister Patty Belknap and sisters-in-law, Marybelle and Sally Savage survive him as do his wife June and his children and their spouses: Marie Savage (Tim) Hopfauf; John (Kelly) Savage Jr.; Patty (Chris) Markofski; and Paul (Kristin) Savage. He is also survived by seven grandchildren and two great-grandchildren. The family wishes to thank the staff at Riverview Care Center and Dr. Groza and the staff at Spokane Kidney Center for their skilled and compassionate care of John and support of June and the family. John has attended St. Anthony's Church in Newport since 1972. Funeral Mass will be there Saturday, December 5, at 11:00 a.m. A visitation will be prior to service at the church. Interment will be at the Holy Cross Cemetery in Spokane Monday, December 7 at 11:00. SHERMAN-KNAPP FUNERAL HOME in Newport, WA is in charge of arrangements. Family and friends are invited to sign the online guest book at sherman-knapp.com
- See more at: http://www.legacy.com/obituaries/spokesman/obituary.aspx?pid=176690763#sthash.nKC1kSIc.dpuf