2019 50TH REUNION!!!
THE RECAP OF OUR WILDLY SUCCESSFUL 50TH REUNION SATURDAY NIGHT, SEPTEMBER 21ST, 2019, AT TWIGS WANDERMERE IS CAPTURED PRIMARILY IN PHOTOS BELOW. ENJOY. (IF YOU HAVE PHOTOS TO SHARE, SEND THEM TO ME AT JCLEAVERONAHOG@GMAIL.COM.)
Teaser alert: I happen to know lots of former classmates didn't think they'd come. Yawn, way past bedtime...boring...no one I really wanna see...just a bunch of old people. You know, THAT kind of thing. BUT. Apparently, many of them rethought the deeper meaning of it being literally a half of a century since we last saw each other. Short story? The place was packed. Buzzing with conversation. I didn't see a single bored individual in the bunch. Guessing here but I'd say there were at least 5-10% who had NEVER been to a class reunion before. And yet, they came to this one. Most came as singles that I saw so most were classmates with a smattering of brave spouses thrown in. The room was made to hold 85 people. We were far over capacity. But who's counting. This class photo includeds just a portion of the classmates who were willing to stand still long enough to be photographed. (PS: As we add photos, for expediency's sake, we are using maiden names only for the women. You can look up their full names in the department called Classmate Profiles.)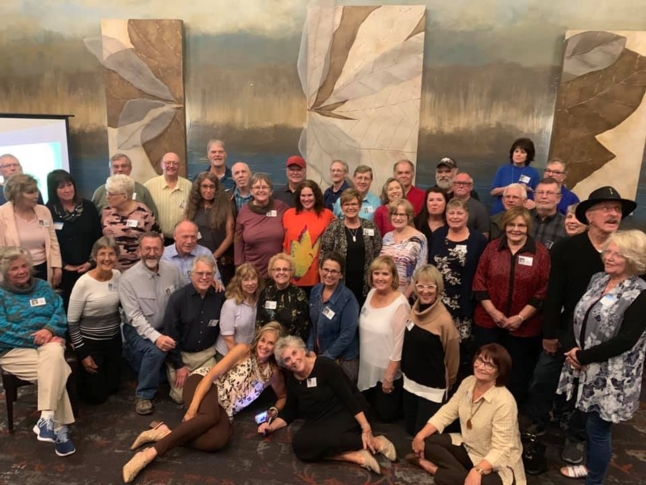 Mead High School Class of 1969 50th Reunion in 2019, Twigs Wandermere
""Girl Table"....L-R around table (by maiden names): Melaine Walker, Judy Young, Dia McVey, Sue Renner, Mary Laws, Ronna Jones, Susan Gregorak, Laurie Stuart, Tricia Gregorak.
Terry Ryan & spouse, Shirley Weatherford & spouse, Turquoise blouse?, Bernita Heth, Vickey Duskey, Barbara Wilson, Carlene Blomgren & spouse. Upper right corner: Connie Quinn, Tim Johnson
Pastors Floyd Wilks and Steve Buckley in front of the In Memory Boards reminding us of our classmates no longer with us and encouraging us to spend our remaining years well.
(L-R) Gayle Mohney, Judy Young
L-R) Bob Kellogg, Doug Wise, Pastor Floyd Wilks
(L-R) Tricia Gregorak, Kathy Clark
(L-R) Anne Durham, Laurie Wiley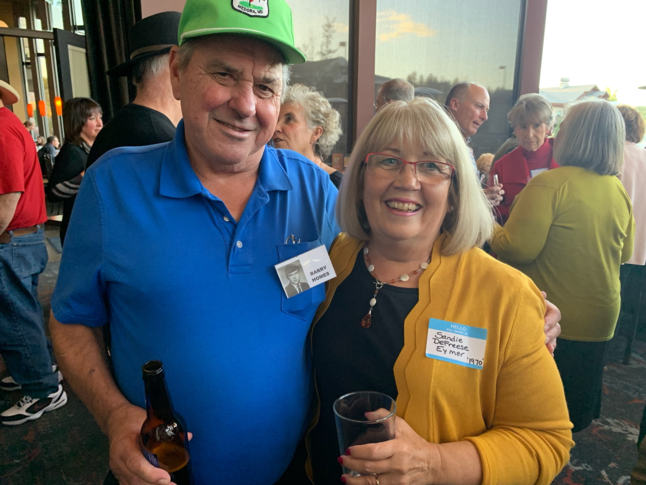 (L-R) Barry Holmes, Sandie DeFreese Eymer, wife of Scott Eymer. You may remember that Scott and Sandie were high school sweethearts, MHS Class of '70.) Scott's been a helpful advisor to our reunion crew.
L-R) Pastors Floyd Wilks and Steve Buckley; Jim Patterson
L-R) Tricia Gregorak Robinow, Connie Quinn Peterson (married to fellow classmate, Gene Peterson), Anne Durham Grun.
L-R) Kathy Clark Moore, Laurie Stuart Perkins, Dia McVey Reeves, Anne Durham Grun
((R-L) Judy Young and hubby arriving at Spokane Airport. Classmates made great efforts to join us!
(L-R) Kurt Balazs's wife Pam, Ronna Jones, Kurt Balazs
(L-R) Royal Ingebretsen (he moved away 8th grade but had so many fond memories of elementary years in the district wanted to see old friends so went to a great deal of effort to come, Dia McVey, Gary Wright, Dave Sandford (reunion-crasher...yes, we had a couple of them, and loved them all!:)
(L-R) Sue Renner, Melaine Walker
Brick by brick our old school is coming down. A few alum stopped to take one last look before the reunion and bid her farewell as she turns into a large sports complex. (L-R) Terry Joralemon, Mike Klassen, Gayle Mohney, Kathy Clark, Laurie Stuart, Dia McVey, Melaine Walker, Anne Durham.
You'da hadta been there......to see/feel the level of fondness, sentiment, caring this particular reunion brought out in one another. THIS photo captures it. (L-R) Laurie Wiley, Judy Young.
(L-R) Pam Thielen, Charlene Faoro
(L-R) Laurie Stuart, Tricia Gregorak
(L-R) Dia McVey, Julie Schrader
(L-R) Teacher and debate coach, Mary Hyatt (Yes, she STILL drives her old red Corvette and also has a new one! And, YES, she is STILL teaching college english. AT EIGHTY YEARS OF AGE! You read that right!!!! Melaine Walker and Anne Durham.
Mary Hyatt's old Vette......some things are absolutely timeless......like Mary herself!!!! And, our memories at Mead. Thanks, Mary, for reminding us of that with your presence. What an honor to have an icon join us!
(L-R) Shirley Weatherford Hillhouse, Bernita Heth
((L-R) Telford Burts, XXX?, Floyd Wilks, Scott Eymer (Class of 70 but who's helped our class with a lot of technology questions.) (Back to camera with long dark hair, Joan Bischoff Lanning.)
Special thanks to all of you for coming to the Tres Amigas Reunion Shebang Thang! YOU made it what it was. Truth be known, we three "sacrifical lambs" just used it as an excuse to attend to the little reunion details over adult beverages and pretend like we were 18 again. (L-R, Julie Clark, Jerry Clark's widow who did all this in honor to her hub); Mary Laws and Ronna Jones.